The CoAKTing NASA Mobile Agents Testbed
Collaborative Advanced Knowledge Technologies in the Grid
Prof Simon Buckingham Shum
This event took place on 1st May 2004 at 2:00pm (13:00 GMT)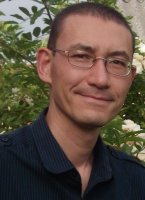 The AKT consortium researches applications of Advanced Knowledge Technologies. The CoAKTing work in that consortium explores the use of advanced collaborations tools supporting teams working across the Internet.

In this presentation Dr Simon Buckingham Shum discusses an extreme example of such collaboration, the challenge facing NASA in working with remote scientific teams on Mars. In an April/May 2004 field trial investigating future technologies to support manned surface exploration on Mars, the NASA Ames Mobile Agents project evaluated CoAKTinG systems from The Open University's Knowledge Media Institute (Compendium and BuddySpace) and Southampton University's Intelligence-Agents-Multimedia Group (Meeting Replay).

Related Links

Replay a full KMi seminar by NASA Mobile Agents project lead, Maarten Sierhuis.

EPSRC/e-Science CoAKTinG Project:

CoAKTinG PowerPoint slides in the ProLearn TV webcast:
10Mb ZIP download

Field reports posted during the NASA Mobile Agents field trial:
This report presents some reflections on the use of Compendium in the Mars Desert Research Station field trial, and on the role of the 'Remote Science Team Facilitator' (i.e. Compendium mapper) which tries to characterise for a broad audience the role and skillset of such a person.

Other reports on Crew 29's experiences with Compendium (use on 'Mars' by the crew for planning surface explorations, and analyzing data, and by the scientists on 'Earth' to discuss the crew's decisions) are listed chronologically here.

Collaboration tools

Compendium knowledge mapping and meeting capture tool.


BuddySpace location aware instant messaging and presence.
The webcast was open to 600 users
---

Click below to play the event (7 minutes)
---

Click for RSS 2 feed for podcasting.
---