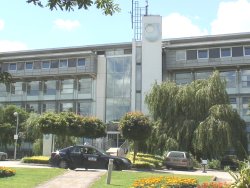 Digital geographies: How is the digital reformulating geographies' objects and methods?
This free, one-day event will bring together a range of scholars currently exploring and experimenting at the boundaries of the digital and the geographical today, and will speak to Emeritus Professor Doreen Massey's interests in spatial politics and justice.
Digital technologies are now so diverse and pervasive that, as David Berry has suggested, the category of 'the digital' is becoming almost meaningless. However, that saturation and reach is also highly differentiated, socially and spatially. These differences are also visible within geography as Kitchin argues in his neat division into the geographies of the digital; the geographies by the digital and the geographies produced through the digital. Thus for Kitchin (2014), the spatial distribution of digital technologies, the ways in which digital technologies have altered the nature of objects and practices studied in geography and introduced new methods and practices for producing geographical knowledge are all fundamental. However, how do these vary across subdisciplines? Moreover, digital technologies are not simply setting an empirical research agenda; their theorisation and their effects in the world are also challenging how we as geographers conduct our own research practice. How have objects of concern altered and how is geographical practice – its tools and techniques – altering to reflect the ubiquity of digital technologies?
Follow the pre-event on Twitter (@OpenSpaceRC) and on our Facebook page, Geography Matters, in the preceding weeks.
This event is free but PLEASE REGISTER NOW to attend IN PERSON or ONLINE.
On the day, OpenSpace are delighted to be able to welcome participants' questions and comments via live Q&A:
On 24 March watch the LIVE WEBCAST here. All times shown below are GMT.
The webcast will be available to watch after the event, also available from this page.
PROGRAMME
10:00 Registration and refreshments
Welcome & Introduction
10:30 Gillian Rose and Joe Smith
10:40 Session 1: The digital in geography – who, what, where, when?
This session will provide an introduction to contemporary issues in digital geography, why it matters and offer a conceptual framework for the day's discussions
Chair: Prof. John Allen
10:40 Concept note: Prof. Rob Kitchin, ERC Advanced Investigator and former director of the National Institute of Regional and Spatial Analysis at the National University of Ireland Maynooth
Geographies Of, Produced By, and Produced Through, the Digital
10:55 Interventions
Dr Agnieszka Leszczynski, Lecturer in Human Geography, University of Birmingham
Spatial Media/Tion
Dr James Ash, Lecturer in Media, Newcastle University
Post-phenomenology, Digital Objects and Methodology
11:15 Questions
11:40 Tea & Coffee
12:00 Session 2: Reformulating urban geography – Sentient cities:
How is the urban being reformulated through digital technologies? What do these socio-technical interventions mean for urban geography?
Chair: Dr George Revill
12:00 Concept note: Prof. Gillian Rose, Professor of Culture Geography, Department of Geography, Open University
Smart, Intelligent, Sentient - and that's just the City: Digital Agency and the Urban
12:15 Interventions
Dr Ayona Datta, Senior Lecturer in Citizenship and Belonging, School of Geography, University of Leeds
The (un)smart city: Fictions of sentient urban futures
Dr Nick Bingham, Senior Lecturer in Geography, Department of Geography, Open University
Weaving the Sentient City: Some Matters of Articulation
Prof. Michael Batty, Centre for Advanced Spatial Analysis (CASA), University College London
Technologies we use to understand the city are changing the very things we seek to understand
12:45 Questions
13:10 Lunch
14:00 Session 3: Reformulating development geography – changing communities:
How are spatial justice and social justice being reformulated through the digital? Does the digital offer new opportunities for addressing global inequalities?
Chair: Prof. Giles Mohan
14:00 Concept note: Prof. Mark Graham, Senior Research Fellow and Associate Professor, Oxford Internet Institute, University of Oxford
Code, Content, and Control: Global Geographies of Digital Participation and Representation
14:15 Interventions
Prof. Sarah Elwood, Professor of Geography, Centre for Studies in Demography and Ecology, University of Washington Seattle
Working the Cracks: Poverty Politics and the Digital
Valentina Carraro, Cartography and GIS assistant, Grassroots Jerusalem
Grassroots Mapping: Experiences from Occupied Jerusalem
14:35 Questions
15:00 Tea & Coffee
15:25 Session 4: From 'Impact' to Interact – digital geography changes the game
How does the research process alter with and through digital technologies? How does interactivity make a difference to our research methods?
Chair: Dr Paul-Francois Tremlett
15:25 Concept note: Dr Joe Smith, Senior Lecturer in Environment, Department of Geography, Open University
Digital Worlds: Interactive Documentary as Geography
15:40 Interventions
Anuradha Vittachi, Author, journalist and co-founder of the Hedgerley Wood Trust and Oneworld.org
Saving Ms. Janaki: How can digital media serve social and environment justice?
Dr Mark Brandon, Reader in Polar Oceanography, Department of Environment, Earth & Ecosystems, Open University
Why I Tweet: What social media means for controversial environmental research
16:00 Questions
16:30 Plenary: Prof. Rob Kitchin
From a single line of code to an entire city: Reframing thinking on digital geographies
17:05 Reception
Select from replays below: