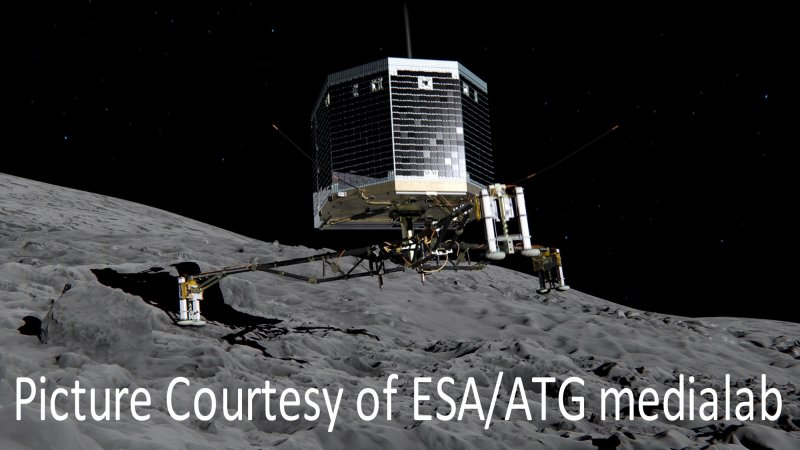 Join us for a special event to mark the culmination of over 20 years of OU research and a landmark in space science - the world's first ever mission to land on a comet.
After 10 years journeying through the solar system, the European Space Agency (ESA) probe, Rosetta, will deploy its landing craft, Philae, to attempt the first ever soft-landing on a comet on Wednesday 12 November 2014. OU researchers have contributed to and developed a number of instruments for the mission including, on-board Philae, the Ptolemy instrument which will analyse samples from the sub-surface of comet and tell us what the comet is made of.
Alongside a panel of OU academic experts will be presentations from:
David Rothery, Professor of Planetary Geosciences, The Open University will a short talk on the landscape of comet 67P/Churyumov-Gerasimenko, looking at what has been revealed so far and what the lander may have encounter.
Dr Colin Snodgrass, Ernest Rutherford Research Fellow, The Open University will report live on the latest images of comet 67P seen from the European Southern Observatory's Very Large Telescope in Chile and what ground-based telescopes do to support the mission.
Dr Ross Burgon, Knowledge Exchange Fellow, The Open University will take the audience through the OU's involvement with the Rosetta mission and the journey the craft has taken to reach landing day.
We will also be joining the live feed from the European Space Agency (ESA) during the event to watch the landing live.
Programme:
(Please note that as we will be linking live to the feed from ESA during the event these timings are subject to change)
15:00 Welcome and introduction
15:10 The science of comets
15:25 Rosetta at the OU
15:25 Countdown to landing
16:05 Reactions and Q&A
16:15 Closing remarks and refreshments