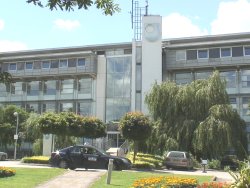 14:00 - 16:00 Plenary session.
14:00 plenary opening session in: Opening by Anja Oskamp, President of EADTU and rector Open University of the Netherlands.
Official adresses, Chair:
14:05 Hazel Rymer, Pro Vice Chancellor, LTI, The Open University - Welcome and presentation of The Open University, UK.
14:15 Ministry of Education – Welcome and keynote.
Presidential address, Anja OskampPresident of EADTU and rector, Open University of the Netherlands (OUNL).
14:45 accelerating and strengthening innovation in education. Simon Nelson, CEO of FutureLearn. Digital Transformation: the opportunities of education at scale.
Sir John Daniel, former vice-chancellor UK Open University - Keynote.
Diana Laurilardprof. at Insitute of education, University of London (TBC) – Keynote.
16:00 Coffee & end of live session