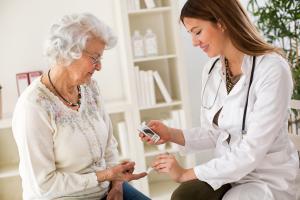 Join us in the Berrill Theatre, Walton Hall and online on Tuesday 4 July 2017, from 6.00-7.00pm for Professor Cathy Lloyd's inaugural lecture onDiabetes and Depression: A Tale of Three Cities, which will highlight the link between diabetes and psychosocial problems such as depression.
Cathy Lloyd is a Professor of Health Studies in the School of Health, Wellbeing and Social Care at The Open University. She has an international reputation for research in the psychosocial field of diabetes. Her research interests have two overlapping strands. The first focuses on the relationship between diabetes and mental health and its impact on the individual and on health service provision. The second strand is her commitment to taking an inclusive approach, pioneering alternative ways of involving minority ethnic groups in research where they are often excluded due to language and literacy difficulties.
InDiabetes and Depression: A Tale of Three Cities, Professor Lloyd will discuss her early work investigating the impact of diabetes on the life experiences of young adults living in a deprived area of London. Understanding how young adults live with diabetes creates a greater awareness of the difficulties and helps provide appropriate support to individuals as they self-manage their condition. This research led her, in 1991, to obtaining a fellowship in Pittsburgh, USA, where she worked alongside researchers from all over the world, on a project which is still ongoing: the Epidemiology of Diabetes Complications (EDC) Study. On her return to the UK, she worked alongside practitioners in Birmingham to develop ways of involving people with diabetes from minority ethnic groups who are often excluded due to language and literacy difficulties. As part of her inaugural lecture she will be describing her development of alternative methods for securing informed consent and collecting research data in under-served marginalised communities
She will end with her latest research, leading the International Prevalence and Treatment of Diabetes and Depression (INTERPRET-DD) Study (supported by the Dialogue on Diabetes and Depression), which spans 20 countries, examining pathways to care for depression and other mental health problems in people with Type 2 diabetes.
I very much hope you will be able to attend what promises to be an inspiring event - the seventh in the Open University's 2017 'OpenMinds' series of public engagement events
Event programme:
17:30 Refreshments available (arrive early and enjoy our pre-event display and trailer video)
18.00 Opening
18.05 Talk commences
18:35 Q&A session
18:55 Close
19:00 Drinks reception and networking opportunity
20:30 Departure
To attend the event in person: book here
If you are attending the event in person there will be networking, discussion opportunities and refreshments after the event.
Can't join in person? Watch the event live online
If you are viewing the event by livestream, please do take the opportunity to have your questions answered by our speakers LIVE during the event by posting in the COMMENTS BOX on this page.