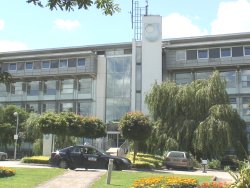 The demands that literature makes on readers, will be addressed by Professor Richard Danson Brown in his inaugural lecture on Shall I Compare Thee? Poetry, Education, Seduction, on Tuesday 6 June 2017.
Richard is Professor of English Literature in The Open University's (OU) Faculty of Arts and Social Sciences and has contributed to over 13 modules, been Director of Level 1 Teaching, Associate Dean (Curriculum), Dean of Arts, and interim Executive Dean of FASS, before returning to regular academic life.
Richard will address the three key themes of: poetry, comparison and education. After exploring the ways which Elizabethans were taught, and their expectations of literature, he will look at the ambiguities of comparison in Shakespeare's Sonnets and in Edmund Spenser's epic, The Faerie Queene.
This lecture forms part of the work around the monograph he is currently writing for Manchester University Press, The Art of The Faerie Queene, and which builds on his co-written book (with J. B. Lethbridge), A Concordance to the Rhymes of The Faerie Queene (2013).
Professor Danson Brown said: "I will look at the self-conscious manipulation of devices like simile in Elizabethan poetry in terms of the demands they make on us as readers. I will also ask if literature makes us better people, and the extent to which studying literature is educational."
Event programme:
17:30 Refreshments available (arrive early and enjoy our pre-event display and trailer video)
18.00 Opening
18.05 Talk commences
18:45 Q&A session
18:55 Close
19:00 Drinks reception and networking opportunity
20:30 Departure