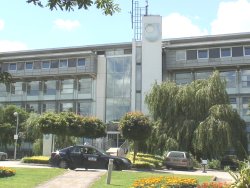 For nearly 20 years The Open University researched and developed tools for the Rosetta mission and literally jumped for joy when the European Space Agency (ESA) probe, Rosetta, deployed its landing craft, Philae, and achieved the first ever landing on a comet in November 2014. Now three months later, key OU academics are in a position to share their initial findings and their new perspective on the properties and formation of comets as a result of the landing and the applications for the science on Earth, particularly in industry.
Programme:
Professor Ian Wright, Professor of Planetary Sciences, who led the design of Ptolemy, will report how the instrument performed and what it found.
Dr Simon Green, a researcher, whose workfocuses on physical studies of planetary surfaces and small solar system bodies, will reveal what the GIADA (Grain Impact Analyser and Dust Accumulator) made of the cometary dust it found and what it tells us about how a comet works.
Dr Colin Snodgrass, an Ernest Rutherford Research Fellow, will show imaging of the results which show some of the variations in terrain on the comet and speculate about what this means for the large scale structure and formation of comets.
Dr Geraint Morgan, Project Manager,will focus on how the collective expertise used to develop an instrument that can "sniff" the environment around a comet is now being used by industry to monitor the atmosphere in submarines, improve the quality of perfumes and even "sniff" for bed bugs in hotels.
The talk will also be streamed live on OpenLearnwith the subsequent recording being made available on the same page.