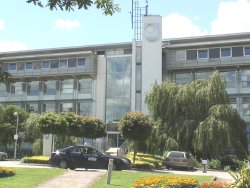 The headline event of the OU's "Equality through Innovation" month will be opened by the Vice-Chancellor, Martin Bean and includes keynote addresses from Baroness Onora O'Neill, Chair of the Equality and Human Rights Commission and Professor Binna Kandola, leading authority on unconscious bias.
Colleagues leading the OU equality objectives will share some examples of innovative equality practice and there will be a panel discussion led by Musa Mihsein, Pro-Vice-Chancellor (Academic), titled What does innovation look like?
Programme
10:00 Our programme and purpose Tony O'Shea-Poon, Head of Equality, Diversity & Information Rights.
10:10 Welcome to our inclusive, responsive, innovative University. Martin Bean, Vice-Chancellor.
10:25 Public Sector Equality Duties and Academic Judgement. BaronessOnora O'Neill, Chair of the Equality and Human Rights Commission.
10:50 Innovation in practice: Sharing some learning from our equality objectives Introduced by Tony O'Shea-Poonwith contributions from
Pat Atkins, Assistant Director, Associate Lecturer Support and Professional Development.
Satvinder Reyatt,Head of Human Resources for Support Services.
Rachel Cragg, Director, Academic Planning & Resources.
11:20 Holding the Mirror to ourselves: bias in decision making ProfessorBinna KandolaOBE, Business psychologist, author, co-founder and senior partner at Pearn Kandola.
11:45 Panel discussion with Q&A: "What does innovation look like?" Chaired byProfessorMusa Mihsein, Pro-Vice-Chancellor (Academic), with
Baroness O'Neill
Binna Kandola
Tony O'Shea-Poon
Rachel Cragg
Satvinder Reyatt
12:30 Close.
This event will be open to all and streamed live on the day. Those who are unable to attend in person will be able to join the live streaming and have an opportunity to submit questions that may be selected for discussion.
In addition, throughout July, in line with our theme for Charter Day 2014, there will be a series of Equality through Innovation events for OU staff, to recognise innovative practice at the OU in the area of equality, diversity and inclusion since we published the University's equality objectives two years ago.
The full programme and booking information for July's events are published on the staff intranet Equality and Diversity intranetat http://intranet.open.ac.uk/equality-diversity/innovation.shtml. (The above link won't be accessible to students or other members of the public participating on 16 July)